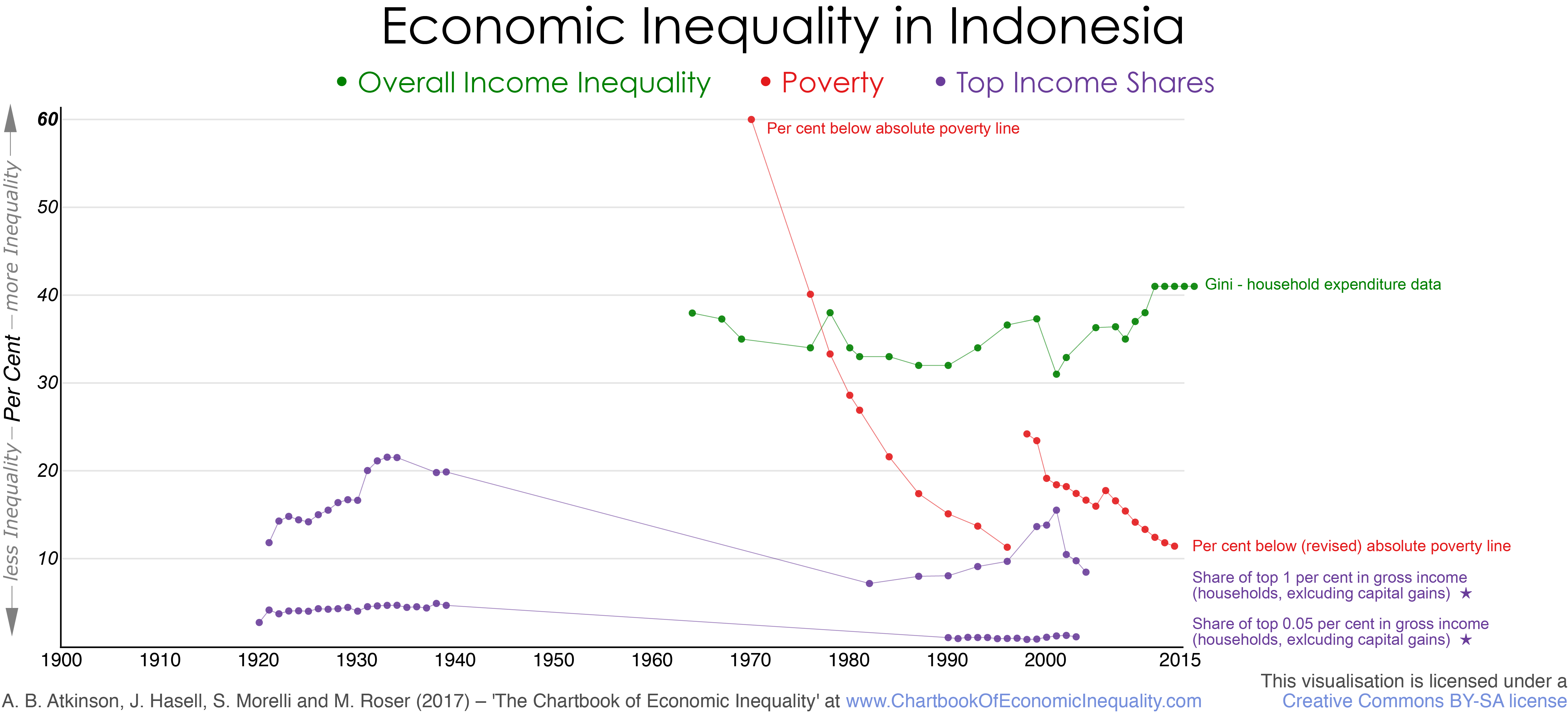 Download this chart
–
Embed this chart for Indonesia on your website
Download the database (.xls)
–
Download the entire Chartbook (.pdf)
Sources and References
Sources:
Overall inequality: Gini coefficient for household per capita expenditure from the website of Badan Pusat Statistik (Statistics Indonesia), consumption and expenditure/ Distribution of Expenditure per Capita and Gini Index, 2010-2015 (earlier figures for 2002 to 2009 had been downloaded previously, but appear to be no longer available on the website); earlier observations from Asra (2000, Table 4) and Rao (1988) taken from Krongkaew and Ragayah (2006, Table 2); linked at 1970 (with the assumption of no change since 1969) using Gini coefficient for per capita consumption from Fields1989 series as listed in World Income Inequality Database version 3.4, January 2017 (accessed 28 February 2017), all Indonesia excl. West Irian, East Timor and Maluku.
Top income shares: Share of top 1 per cent and 0.05 per cent in total gross income (households, excluding capital gains) from WID.world, based on work of Leigh and van der Eng (2010).
Poverty measures: Percentage with expenditure below official absolute poverty line (see Asra, 2000) for total population (rural and urban) from Statistics Indonesia, Poverty, Number Of Poor People, Percentage of Poor People and The Poverty Line, 1970-2013; the poverty line was revised upwards in 1998 (series 2 before 1998; series 1 from 1998). Averages taken of multiple annual observations from 2011.
Dispersion of earnings: No suitable data were found.
Wealth inequality: No suitable data were found.
References:
Asra, A, 2000, "Poverty and inequality in Indonesia", Journal of the Asia Pacific Economy, vol 5: 91-111.
Asra, A, 1989, "Inequality trends in Indonesia, 1969-1981: A Re-Examination", Bulletin of Indonesian Studies, vol 25: 100-110.
Booth, A, 1993, "Counting the poor in Indonesia", Bulletin of Indonesian Economic Studies, vol 29: 53-83.
Krongkaew, Medhi and Ragayah, Haji Mat Zin, 2006, "Income distribution and sustainable economic development in East Asia: A comparative analysis".
Leigh, A and van der Eng, P, 2010, "Top incomes in Indonesia, 1920-2004" in A B Atkinson and T Piketty, editors, Top incomes: A global perspective, Oxford University Press, Oxford.
Miranti, R, 2010, "Poverty in Indonesia 1984-2002: The impact of growth and changes in inequality", Bulletin of Indonesian Studies, vol 46: 79-97.
Rao, V.V. B, 1988. 'Income Distribution in East Asian Developing Countries', Asian-Pacific Economic Literature, vol. 2, no. 1, March, pp. 26-45.
Sundrum, R M, 1979, "Income distribution, 1970-76", Bulletin of Indonesian Studies, vol 15: 137-141.