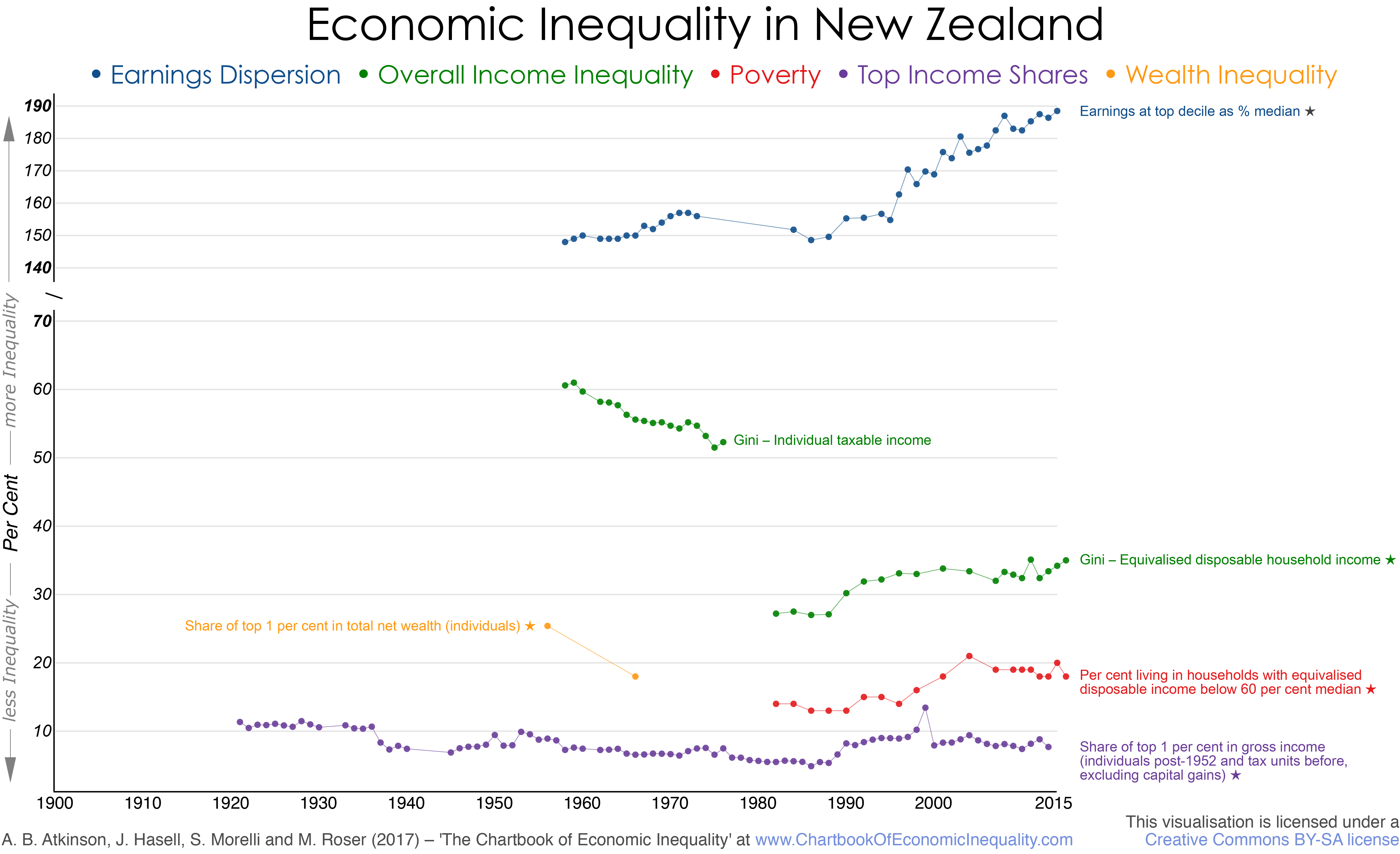 Download this chart
–
Embed this chart for New Zealand on your website
Download the database (.xls)
–
Download the entire Chartbook (.pdf)
Sources and References
Sources:
Overall inequality: Series 1: Gini coefficient for equivalised (using square root scale) disposable household annual income before deduction of housing costs from Perry (2016, Table D.8) from 1982 to 2015; series 2: Gini coefficient for individual taxable income from Easton (1983, Table 10.7 after the introduction of PAYE).
Top income shares: The top income shares are from WID.world, based on work of Atkinson and Leigh (2008), updated by Alvaredo and Atkinson (2014). Note that top income series have a break in 1952. Data refer to tax units before 1953 and to individuals from 1953 onwards.
Poverty measures: Percentage of individuals in households with equivalised (applying 1988 revised Jensen scale, described as close to the modified OECD scale) disposable income before housing costs below 60 per cent of the contemporary median from Perry (2016, Table F.3).
Dispersion of earnings: Earnings at top decile as percentage of median earnings from Atkinson (2008, Appendix M, Table M.3), based on the work of Easton (1983); continued from OECD iLibrary, Employment and Labour Market Statistics, Gross earnings decile ratios (accessed 22 February 2017).
Wealth inequality: Share of top 1 per cent of individuals in total net wealth from Easton (1983, Table 7.3).
References:
Atkinson, A B, 2008, The changing distribution of earnings in OECD countries, Oxford University Press, Oxford.
Atkinson, A B and Leigh, A, 2008, "Top Incomes in New Zealand 1921-2005: Understanding the Effects of Marginal Tax Rates, Migration Threat, and the Macroeconomy", Review of Income and Wealth, series 54(2): 149-165.
Alvaredo, F and A B Atkinson, 2014, "New Zealand: Estimates of Top Shares for 2011/2012, and Revision for 2010/2011" WID.world Technical Note Series N°2014/3
Easton, B, 1983, Income distribution in New Zealand, New Zealand Institute of Economic Research, Wellington.
Perry, B, 2016, "Household incomes in New Zealand: trends in indicators of inequality and hardship 1982 to 2015", Ministry of Social Development, Wellington.