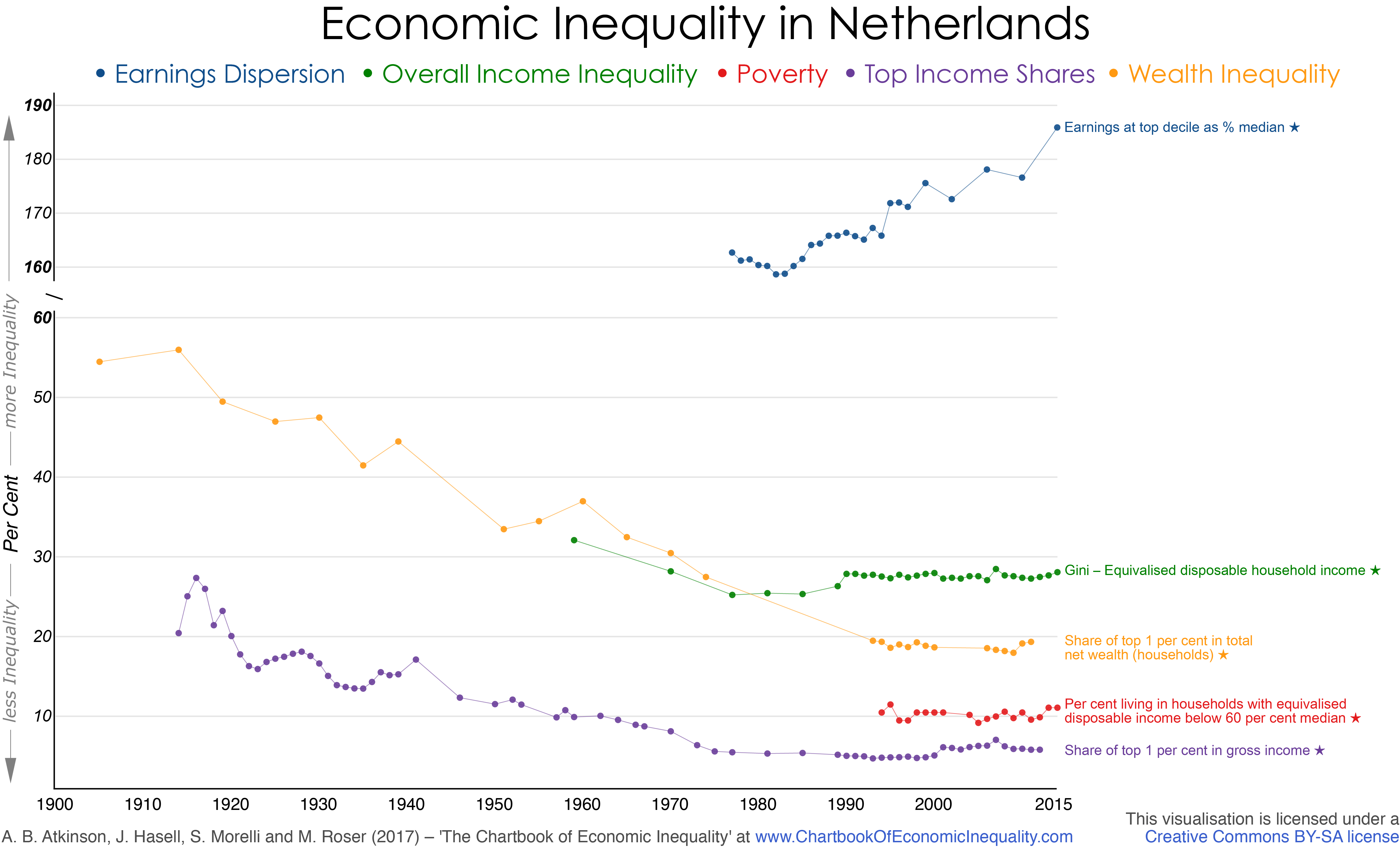 Download this chart
–
Embed this chart for the Netherlands on your website
Download the database (.xls)
–
Download the entire Chartbook (.pdf)
Sources and References
Sources:
Overall inequality: Gini coefficient for equivalised (CBS scale) disposable household income from Centraal Bureau voor de Statistiek (CBS) website; linked at 2000 to series from 1977 to 2000 supplied by the CBS; inked at 1977 to series for disposable income, not equivalised, among tax units, from Trimp (1996, Staat 2).
Top income shares: Share of top 1 per cent in total gross income from WID.world (tax units, excluding capital gains), based on work of Salverda and Atkinson (2007) and updates from Salverda (2013).
Poverty measures: Percentage of individuals living in households with equivalised (EU scale) disposable income below 60 per cent of the median from EU-SILC (People at risk of poverty after social transfers table), Eurostat website (accessed 27 Feb 2017).
Dispersion of earnings: Earnings at top decile as percentage of median earnings. Series from Atkinson (2008, Appendix L, Table L.3) based on OECD (LMS) data up to 1999; latest figures from OECD iLibrary, Employment and Labour Market Statistics, Gross earnings decile ratios (accessed 22 February 2017). Break between the two sources indicated within the table.
Wealth inequality: Share of top 1 per cent of households in total personal net wealth from Roine and Waldenström (2015), drawing on the work of Wilterdink (1984, page 269).
References:
Atkinson, A B, 2008, The changing distribution of earnings in OECD countries, Oxford University Press, Oxford.
Roine, J and and Waldenström, D, 2015, "Long run trends in the distribution of income and wealth" in A B Atkinson and F Bourguignon, editors, Handbook of Income Distribution, volume 2, Elsevier, Amsterdam.
Salverda, W and Atkinson, A B, 2007, "Top incomes in the Netherlands over the twentieth century" in A B Atkinson and T Piketty, editors, Top incomes over the twentieth century, Oxford University Press, Oxford.
Salverda, W (2013). Extending the top-income shares for the Netherlands from 1999 to 2012: An explanatory note. Mimeo.
Trimp, L, 1996, "Inkomens 1959-1994", Sociaal-economische maandstatistiek, vol 13, No 12: 31-34.
Wilterdink, N, 1984, Vermogensverhoudingen in Nederland, De Arbeiderspers, Amsterdam.