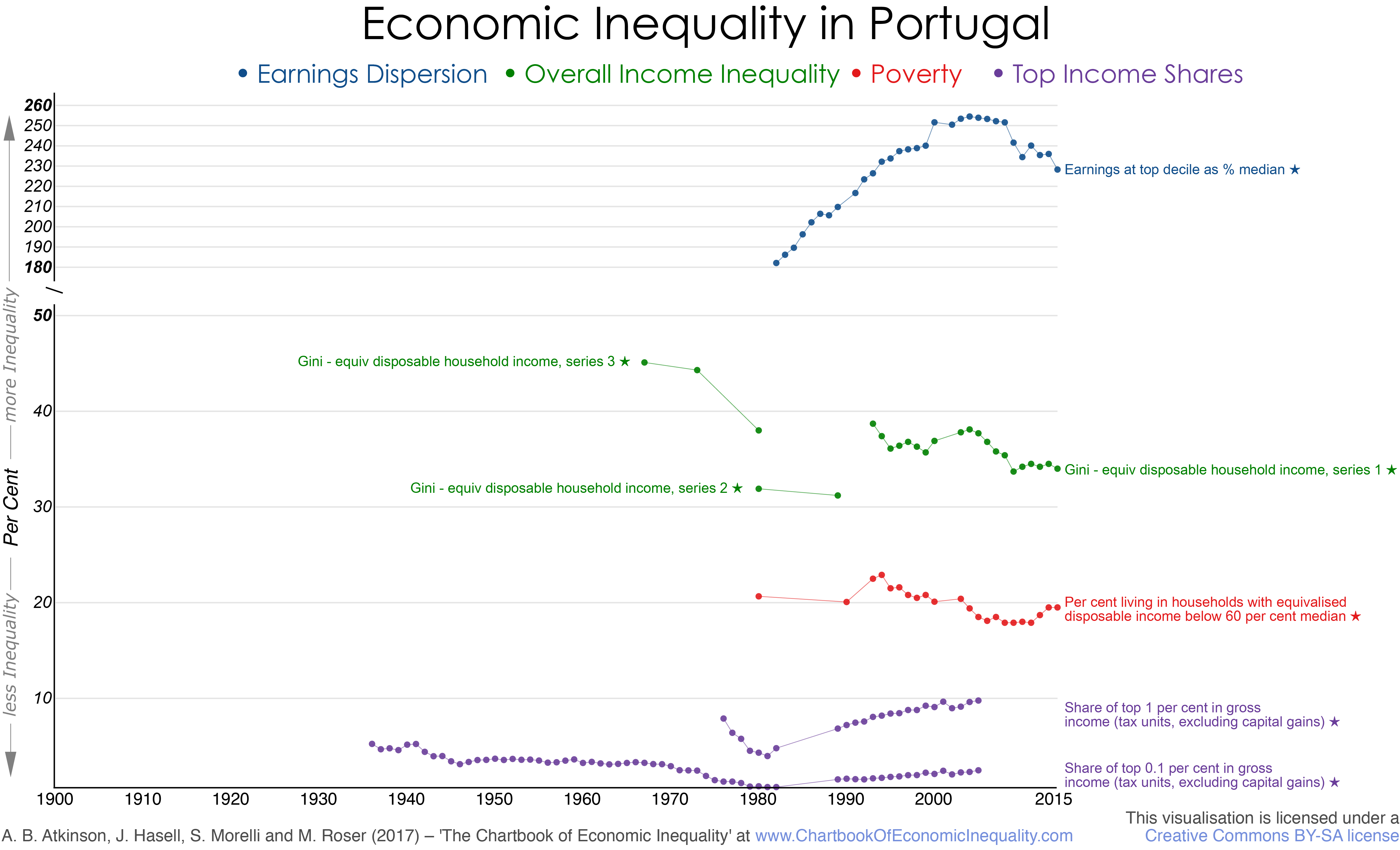 Download this chart
–
Embed this chart for Portugal on your website
Download the database (.xls)
–
Download the entire Chartbook (.pdf)
Sources and References
Sources:
Overall inequality: Gini coefficient of equivalised (modified OECD-scale) disposable household income from Rodrigues, Figueiras, and Junqueira, 2012 Quadro 18 (series 1), Quadro 16 (series 2), and Quadro 14 (series 3). Series 1 is based on data from the European Community Household Panel and EU-SILC. Data from 2009 are from EU-SILC, downloaded from EU-SILC (ilc_di12 series), Eurostat website (accessed 27 February 2017).
Top income shares: Share of top 1 and top 0.1 per cent in total gross income from WID.world (tax units, excluding capital gains), based on work of Alvaredo (2010).
Poverty measures: Percentage of individuals living in households with equivalised (EU scale) disposable income below 60 per cent of the median, from Rodrigues, Figueiras and Junqueira, 2011, Quadro 10, up to 2000; from 2002 data taken from EU-SILC (People at risk of poverty after social transfers table), Eurostat website (accessed 27 Feb 2017); linked at 1995 to estimates for 1980 and 1990 from Rodrigues (2005).
Dispersion of earnings: Earnings at top decile as percentage of median earning. Series 1 from Atkinson (2008, Appendix P, Table P.3) with updated figures supplied by C F Rodrigues (2003 onwards), linked at 2008 to series from OECD iLibrary, Employment and Labour Market Statistics, Gross earnings decile ratios (accessed 22 February 2017).
Wealth inequality: No suitable data were found.
References:
Alvaredo, F, 2010, "Top incomes and earnings in Portugal 1936-2005" in A B Atkinson and T Piketty, editors, Top incomes: A global perspective, Oxford University Press, Oxford.
Atkinson, A B, 2008, The changing distribution of earnings in OECD countries, Oxford University Press, Oxford.
Rodrigues, C F, 2005, Distribuição do rendimento, desigualdade e pobreza, PhD thesis, Universidade Technica de Lisboa.
Rodrigues, C F, Figueiras, R and Junqueira, V, 2011, "Portugal: um pais profundamente desigual", Instituto Superior de Economia e Gestão, Lisbon.
Rodrigues, C F, Figueiras, R and Junqueira, V, 2012, Desigualdade Económica em Portugal, Fundação Francisco Manuel dos Santos, Lisbon.